STUDY ONLINE: WSET Level 3 in WINE Self Study Online Course -START ANYTIME
Sutton Coldfield
Wednesday 31st July 2024, 01:30 until 01:45
£560.00 per person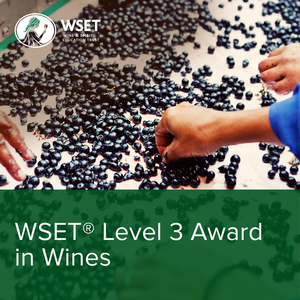 Study Online

Study at home to suit your schedule

Tutor Support available throughout the course

Exclusive and comprehensive online fact sheets, research questions and practice multi choice assessments.

Fortnightly video tasting tutorial sessions

NB: Students must hold the WSET Level 2 Certificate.



The syllabus builds on Level 2 knowledge of wines from the leading wine regions of the world, together with a detailed understanding of grape growing and wine making. The course is a challenging study developing factual recall and analytical skills resulting in a comprehensive appreciation of the world of wine.
The self study online course is comprised of 8 modules as follows:
S1 - Vineyard
Natural factors in the Vineyard, Human Factors in the Vineyard
S2 –Winery & Wine Consumption
Human Factors in the Winery
Wine Selection, Storage and Service, Tasting Faults, Food Pairing, Social & Health Issues

S3 – France
Bordeaux, S W France, Burgundy, Alsace, Loire Valley, Rhone Valley, Southern France
S4 – Spain/Italy
Northern Spain, Eastern Spain, Central Spain
North West Italy, North East Italy, Central Italy, Southern Italy
S5 – Rest of Europe
Germany, Austria, Tokaji, Greece, Portugal
S6 – New World
USA, Canada, Chile, Argentina, South Africa, Australia, New Zealand
S7 – Sparkling & Fortified
Sparkling - France, Spain, Italy, New World
Fortified – Port, Sherry, Fortified Muscat
S8 – Exam Technique and Tasting Guidance
Learning Outcomes, Exam Format, How to Answer the Theory Paper
Tasting Exam Information, How to Answer the Tasting Paper
Practice Opportunities
Exams
Exams must be sat in person at our Exam Centre. Online exams are not available for Level 3 in Wines exams.
Exam Centre Locations: Currently Sutton Coldfield, relocation to Cambridgeshire in Autumn 2023
Please see our Exams Schedule page.
Available to start anytime

Price: £560.00 inclusive of exam fee.

To discuss your requirements or to book directly, please contact

M: 07804 494083
Email: info@thewinewisecompany.com
Or Complete the Contact Us form