STUDY ONLINE: WSET Level 1 in WINE Self Study Online Course - START ANYTIME
Sutton Coldfield
Wednesday 31st July 2024, 00:30 until 00:45
£150.00 per person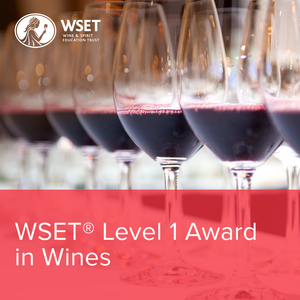 Study Online
Study at home to suit your schedule

Tutor support available throughout the course
Fortnightly video tasting sessions
Exclusive and comprehensive online tutorial, key definition pages and practice questions

Online exams now available. A webcam enabled laptop/pc plus an additional mobile device are required to facilitate online exams.

Discover fascinating wines and grape varieties of the world. You will study the styles of wines to be found in the dynamic wine growing regions and how these wines are made. The course looks at the impact of alcohol and its effect on health, together with wine tasting techniques and a study of how to pair wines with foods.
This course is open to anyone with an interest in Wines. No previous knowledge is required.
M1 - Introduction to Wines

M2 - Grape Varieties and Named Wines

M3 - Wine Tasting

M4 - Service and Storage of Wines, Alcohol and Health, Food and Wine Pairing
Exams
Exam to be sat online.
Online exams require a webcam enabled pc/laptop plus a further mobile device. Please enquire for more details.
Available to start anytime
Price: £150.00 inclusive of exam fee.
To discuss your requirements or to book directly, please contact
M: 07804 494083
E: info@thewinewisecompany.com