STUDY ONLINE: WSET Level 2 in WINE Distance Learning - START ANYTIME
Home
Monday 31st July 2023, 01:15 until 01:30
£280.00 per person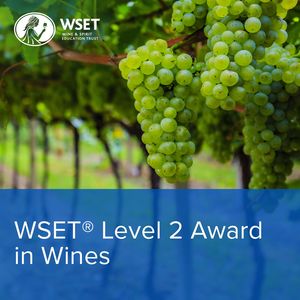 WSET Level 2 Award in Wines

Exams can be sat online using Remote Invigilation software, or in person at one of our exam centres.
Study ONLINE

Study at home to suit your schedule

Tutor Support available throughout the course
Fortnightly video tasting sessions
Exclusive and comprehensive online tutorials, fact sheets and practice questions

Online exams now available. A webcam enabled laptop/pc plus and additional mobile device are required to facilitate online exams.




Our exclusive online WSET Level 2 course provides an indepth introduction to the fascinating world of wines. Discover wine regions, grape varieties and learn how to taste and evaluate wines whilst gaining a globally recognised wine qualification, regulated in the UK by Ofqual
The online course consists of online modules containing tutorials, fact sheets, video tastings and plenty of quizzes and mock exams to prepare you for the exam. You will also receive the WSET studypack containing the course work book and text book.
The course modules include:

Grape Growing and Wine Making

Major Grape Varieties and Wine Regions of the World

Sparkling and Fortified Wines

Food and Wine Pairing

The course culminates in a challenging 60 minute exam consists of a 50 multiple choice questions, covering all aspects of the syllabus. The exam must be sat at one of our Exam Centres. Our main exam centre is in Sutton Coldfield and our satellite centres are located in Watford, Exeter, Bristol, Liverpool and Sheffield . Please see our Exam Schedule for latest exam dates.
Exams
Exams can be sat either onine or at one of our exam centres.
Online exams require a webcam enabled pc/laptop plus a further mobile device. Please enquire for more details.
Exam Centre Locations: Sutton Coldfield (Birmingham), Watford, Exeter, Bristol, Liverpool & Sheffield.

For more course information, please see this Course Outline
Available to start anytime.

Price: £280.00 inclusive of exam fee.
For more information or to book directly, please get in touch:

M: 07804 494083

E: info@thewinewisecompany.com